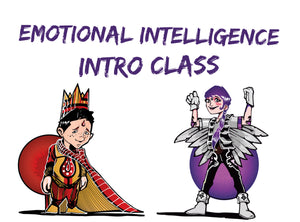 Shift Negative Emotions into Positive Energy
Big feelings can be A LOT for little people to handle 😖 😩

This quick video teaches kids how to control their emotions for greater calm & happiness. 😊

Learn fun strategies that will help children transform tough feelings into positive energy.

In just 45 minutes, this video teaches kids how to control emotions by:

🦹‍ Showing them how identify their own "superpowers" to shift emotions
💓 Answering questions, like Where do emotions come from?
🧩 Presenting simple strategies for manifesting kids' full potential
⏰ Providing interesting content to engage short attention spans

Use the break in normal routine to teach kids about emotional intelligence. 😉 Sign up now!


In this class you will learn:
• What emotions are,
• Where they come from,
• And why they are so important.
• You will also learn how to identify the six basic emotions and their corresponding supplemental words. 
• As well as Shifting Strategies to help your child shift from low energy to higher energy emotions, and activate their SuperPowers.
One of the most important things we can learn about emotions is THAT NO EMOTIONS ARE "GOOD"OR "BAD." You don't need to judge your emotions, but only to give yourself permission to feel and notice them. Some emotions have high energy, and some have low energy. We're going to be focusing on how to identify and shift from low energy to high energy.
What People Are Saying:
⭐️⭐️⭐️⭐️⭐️
What a fantastic class. I was apprehensive how my 6 yo would engage but Sal was amazing at breaking down complex information to a level that fit just perfect. Our child interacted and learned from the feedback of the other kid's wonderfully. We are super excited to start the five week super hero training. A million thanks Sal!!!! - Correne W
⭐️⭐️⭐️⭐️⭐️
The teacher was very engaged with all the students ! My son loved the class! - Amber Z
⭐️⭐️⭐️⭐️⭐️
A wonderful introductory class about emotional intelligence and Sal is engaging and communicates so well with children, keeping them engaged. I highly recommend! - Cintia C
⭐️⭐️⭐️⭐️⭐️
Awesome teacher, awesome content. If you've worked to teach your kids about kindness, compassion and gratitude, you'll love it. -Amber B
⭐️⭐️⭐️⭐️⭐️
Sal was engaged and great with an audience of young kids. My son loved the class and I'm really happy with the strategies he learned. -Gentry L
⭐️⭐️⭐️⭐️⭐️
Great intro to understanding and identifying emotions...but Sal doesn't leave you there!  He gives some tools for how to elevate your emotions as well! - Amber P
⭐️⭐️⭐️⭐️⭐️
Great class! Very helpful info, especially given the current situation. -Megan F
⭐️⭐️⭐️⭐️⭐️
Well my son said he liked it and he usually says "that was boring"...so I would give it 5 stars! -Pia
⭐️⭐️⭐️⭐️⭐️
My son is 7 and struggles with extremely intense emotions and negativity due to his ADHD. This class gave him a good foundation and building blocks to start understanding emotions and practices to get him started on emotional maturity. -Karina M
⭐️⭐️⭐️⭐️⭐️
Sal lead a great class. He made sure to greet each child by name, and took a few minutes to explain how to mute and raise hands in Zoom. He did a great job talking to kids about emotions at their level. The kids were very engaged. I was surprised at my child's level of participation; she was apprehensive about taking an online class and being on camera. Sal asked the kids how they're feeling right now, in the midst of the COVID-19 pandemic, and he validated their feelings. My daughter expressed interest in taking more classes with Sal.
- Angela S
⭐️⭐️⭐️⭐️⭐️
Our little boy absolutely loved this class and came out adamant that if we ever feel sad, we must put on some music and dance! Wonderful. Thanks, Sal! -Amy K