We totally get the struggle! We know what it's like to feel tremendous guilt at the end of the day, no matter how hard you tried to do your very best. We know what it's like to be tired and worn out, and think how could you possibly change any of this ?
Nothing changed for us until we implemented one simple tool. We developed a fun way for kids to easily identify their emotions, and then shift to more empowering ones to create a more positive energetic state of being. Boom!
While the world has been focused on academic success, emotional awareness has been largely overlooked. Research has shown that emotional intelligence is twice as much a predictor of future success in children than scholastic achievements.
Do you want to Transform the emotional energy of your family to create more fun, empowering connections, and a loving environment? Then we've got something that's been proven to work for countless others that have joined this growing tribe of Awakened Families. Try it for 30 days, and if you don't see the tremendous value of this tool, return it for your money back!
Ready to rock?
Step 1
Purchase The SuperHero Training Kit
Step 2
Watch our Video Course (yours for FREE with purchase)
Step3
Make this a practice in your home
Step 4
Experience a high vibe family environment
What People are saying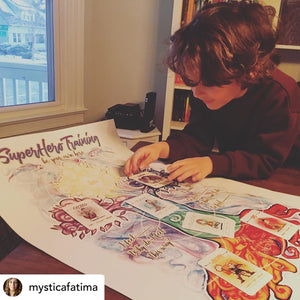 If you're a conscious parent and looking for a fun, simple, effective tool for nurturing your child's emotional health, I've stumbled onto something wonderful. It's the "Superhero Training Kit" by @awakenedgen. It helps your child process their feelings, then provides shifting strategies that simply and playfully guides them into a better feeling state! (Shhhh it actually works for me, too 🤣) Such an empowering, beautiful creation! Bravo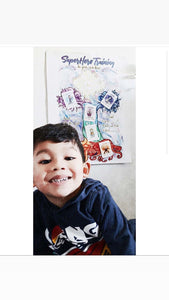 "With recent events of a coworker's demise due to depression, the importance of dealing with emotions at a young age struck me like lightning. I'm glad I had purchased this Superhero Training tool by @awakenedgen just a month before, as it gave me a platform to unravel these feelings, & pick them up 1 by 1 ( Thanks @ mysticafatima for posting! I love that they've created tangible, attractive & motivational ( Superheroes were a perfect choice for motivation! ) ' emotions ' that my son can empathize with. He even slept holding 1 in his hand to help him fall asleep. The vibrancy of colors, the ode to chakras & the tree of Life really speaks to us as adults . So, while i teach my son what these feelings mean & how to become better, I'm also reminding myself to become the parent i want to be . Thank you @awakenedgen for your brilliance & desire to build a more loving community, now as adults & for the future in our children." ⠀